September 24 2018
Wait, what?
A second happy hour?
Yep its true, everyday downstairs from 9pm
late night
happy hour
drink specials
all $3.95
14 oz sleeves of local draught beer
 single hi-balls
 glasses of house red or white wine
appetizers
all $6.95
whipped ricotta
black pepper & olive oil whipped ricotta, spiced walnuts, rosemary honey  and grilled bread
crispy fried pork
with singapore black pepper sauce, fried onion and cilantro
ferris' big house salad
romaine lettuce, chickpeas, cherry tomatoes, cucumber, carrot, toasted pumpkinseeds and crispy yam chips, served with your choice of dressing
 dijon, creamy lemon feta, or ginger miso
big bowl of sweet potato fries
with ali's mayo sampler; harissa mayo, chipotle mayo and gingermayo
pulled pork poutine
ferris' classic fries, cheese curds, pulled natural pork, whiskey rosemary gravy
burgers
all

$10.95
all served with ferris' classic fries, substitutions politely declined
the falafel
spiced ground chickpea patties in a char grilled pita with homous, tomato,
cucumber, and minted yoghurt
the burger
63 acres natural beef with special sauce, house made relish, bacon and cheddar
chicken burger
natural chicken with chipotle chili mayonnaise, bourbon bbq sauce, cheddar and bacon
oyster burger
panko breaded baynes sound oysters with bacon, green onion and ginger mayo
veggie nut burger (oddly containing no nuts)
a sunflower & flax seed patty with house made relish & special sauce on a multigrain bun
with apple chutney & goats cheese
gluten free bun $1.25
March 29, 2018:
 "Date Night" solved!
Beginning April 7th, we will be offering a specially priced set meal for two in each of our restaurants. From a shared four course pasta dinner for two in the Grill for $49.50, to a nine course tapas tasting menu for two in Perro Negro for $59.50, or a four course dinner for two in the Upstairs Seafood & Oyster Bar for $69.50.
see details below, or visit our menu page
Sept 25th 2018
Update: Date night promotion continues in Perro Negro, but is no longer offered Downstairs or Upstairs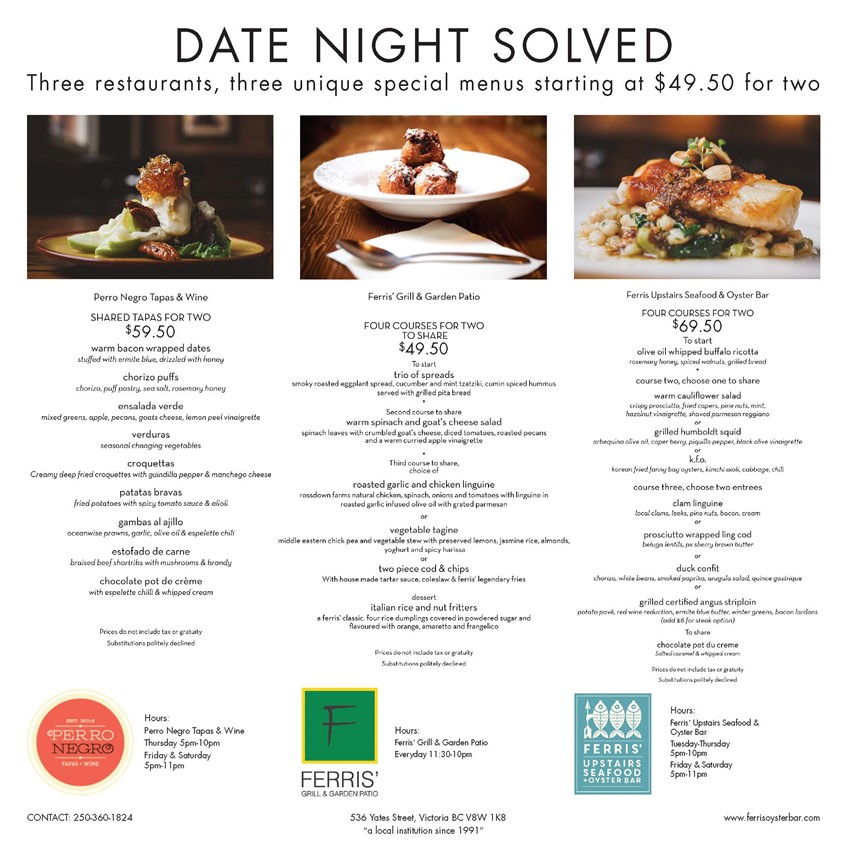 January 1, 2018:
It is with sadness and regret that we announce that we will be closing our Catalano Restaurant and Cicchetti bar as of December 31st 2017. The ownership of the magnolia hotel and spa have decided to perform a major renovation to the restaurant, and upon completion, to then run it themselves.
Over the past five years, we have made many new friends and customers. Along the way, we have earned Where Magazines best new restaurant award, a Trip Advisor award of excellence for each year, garnered international press and have created one of Victoria's best happy hours. In addition, we have turned a so called "cursed" location into a success.
We wish to give our heartfelt thanks to all our staff who have helped make Catalano the success that it is, and to our loyal clientele to whom we are so grateful. You can be sure to see a few familiar Catalano faces at 536 yates street in the new year.
Sincerely,
Tom, Dave, Aaron
Ps: Most people still wonder what the %#@$ a cicchetti is
---